It's a new year but before leaving 2022 behind here's some of my favourite's from the last 12 months, one dominated by some cracking TV shows. So in no particular order…
The Rest is Politics A new for 2022 podcast from Rory Stewart and Alastair Campbell has fast become my favourite pod. Good rapport between the odd couple and a variety of topics from around the political world and some cracking guests. Admittedly helped by the UK having increasingly bat shit crazy politicians.
Industry Stepped up a level in season 2 – great soundtrack, loads of backstabbing and a move into politics alongside the financial industry.
Everything Everywhere All At Once My favourite movie from last year. Clever, funny and far more inventive than any of the multiverse offerings from the big studio's. Hope it gets the recognition it deserves at the award shows.
Glass Onion Only just out, but I really enjoyed the follow-up to Knives Out. Could be watched stand alone too.
Knotwords Zack Gage can do no wrong. Fill in a crossword puzzle without clues, only letters. Simple and another daily habit game.
We Own This City Can still hardly believe this was based on a true story. Another classic from David Simon – Jon Bernthal also owned every scene he was in.
The Responder I'm not a massive fan of Martin Freeman, but he was immense in this show based in Liverpool. Small cast but really delivered over a few episodes.
Bad Sisters Binged this in a couple of days and loved it. Sharon Horgan really can do no wrong and this is a great black comedy. Shout out to Claes Bang who was an excellent prick throughout.
Peacemaker A gem of a show, a bit like The Boys in that it's adult superhero show…and it's funny. The titles alone are worth a watch but my favourite parts were the banter between the various characters.
Derry Girls Stuck the landing – a superb comedy that finished on a high.
For All Mankind Still loving this – season three was pretty ambitious and they pulled it off.
Prey Finally a good follow up to Predator.
Apple Watch Ultra Thanks to my fat wrists, this doesn't look huge on me. Love the flat and slightly larger screen, bigger battery life and the overall look of the watch. Do I do any of the extreme sports that Apple market the Ultra around? No. But it's the best version of the Apple Watch so far and that's good enough for me – and I like the orange pop.
Karen Pirie One of the better ITV drama's of recent years – great story based on a Val McDermid book, but it was the performance of Lauren Lyle that kept me interested. Deserves a second series.
Black Adam Lots of people said this was a dud but I'm here to tell you…they were right. What a waste of time and money this was. I would say it was a waste of talent too, but there was little of that on screen apart from Pierce Brosnan – the rest were all very forgettable.
The Boys Superhero satire at it's best – a real refresher in amongst the Marvel shows.
Playdate It's by no means perfect – the screen needs the ideal light to be playable, but what's not to love about a small handheld device that's yellow and has a crank. First season of games very hit and miss, but a couple have been nice to play through.
Severance I slept on this until last week – I'd dismissed it as some work place dystopian sci-fi but it's so much more. Really asks "Who are you?" but the tension that builds throughout the series is so well done and the twists and characters threads that unfold are so good. Could have done with some more answers in the final episode but thats being picky.
This Is Going to Hurt Funny, raw, emotional – you'll come for Ben Wishaw's performance but it's Ambika Mod as Shruti that will live long in the memory.
Plex Meta Manager I love Plex and have used it for years to manage my home media library. PMM takes it one step further, making your playlists far more dynamic. Great community behind it – it's geeky and can be a bit tricky to setup but it makes my media library feel alive. Need to blog about this and my Plex setup someday.
Wordle Blew up in late 2021 but I've kept playing it through 2022 alongside some friends. It's a nice start to the day, gets the brain engaged and what other games have so quickly spawned companion versions – Heardle, Framed, GuessTheGame. Ended the year with a 3.8 average.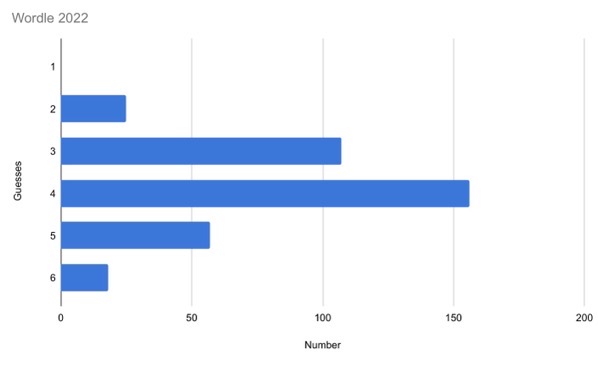 The Bear Set in a sandwich shop in Chicago, this is stressful but funny and a must-see. Great cast, you root for the characters, flaws and all. Cousin!
The Capture Second series was a real step up on the first – a good take on where deep fakes could take us.
Andor I put off watching this as it was a prequel to a prequel – do we need this? What an idiot – it was fantastic and by far the best Star Wars TV series so far. Darker and deeper than other Star Wars titles. A nice follow-up is this episode of Soundtracking where Edith Bowman talks to Andor show creator Tony Gilroy.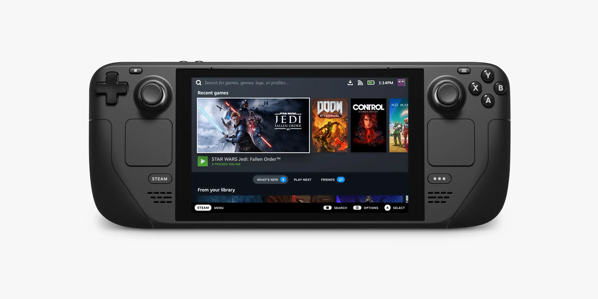 Steam Deck Pre-ordered when it was announced and sold it to a friend within days of getting it. When would I use it? What would I game on it? A few months later I bought his Steam Deck pre-order and never looked back. Great for the smaller indie titles on Steam alongside playing AAA's wherever I am, but I also use Emudeck on it and have a library of classic games that only take a few seconds to launch. I love this handheld and while a higher res screen would have been nice, the compromise in battery life wouldn't have been.
Top Gun Maverick Better than it deserved to be – watched it 3 or 4 times this year and enjoyed it all the more.
The Batman Gritty 70's detective movie featuring Batman – what's not to like?
The English Fresh take on a western, Emily Blunt and Chaske Spencer are fantastic.
Slow Horses Another show I slept on and binged it over 48 hours. Great cast, good plot and there's a second series already broadcast and a third filmed.
Vampire Survivors I blasted this on the Steam Deck – saw a headline the other day that said the thing holding back the Steam Deck was the lack of exclusives. Clickbait headline, but everyone who has a Steam Deck should play Vampire Survivors. Simple (even basic) graphics , but its gameplay is so moreish that it's hard to put down.