For a while I found gaming on iOS starting to stagnate. Too many free to play titles with horrible in app purchasing mechanisms, particularly from EA. However April has seen some great new releases:
Monument Valley
http://www.monumentvalleygame.com/
£2.49
At around 2 hours of gameplay many will dismiss Monument Valley but they are fools. FOOLS! This is a 10 level puzzle game that is more akin to a living M.C. Escher image than a game. The premise is simple – guide Ida to the end of the level by sliding and rotating elements of the level to allow her to complete the path.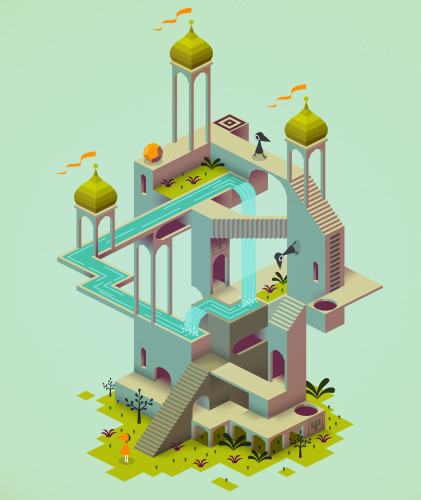 It looks and sounds stunning and is such a satisfying fun game. In many ways the length is perfect as repetition is removed unlike so many games that are longer just because they can be, not for any good reason. If it still sounds too short and the screen above doesn't convince you, the developer has announced this week that more levels are coming. There are no excuses left – just buy it.
FTL: Faster Than Light
http://www.ftlgame.com/
£6.99
A PC favourite, FTL is a real time strategy game based on your spaceship. Maybe more a resource management game but you take part in a variety of quests, battles and make choices throughout the game with the aim to save the galaxy with you in charge of your spaceship. It's tough, especially as when you die you start from the beginning again. Works so well on the iPad benefiting greatly from the retina screen and the touch controls.
This is really addictive and each play through is unique adding to it's shelf life. You can also take charge of different spaceships, again extending the game. Out of all the games on this post, I'd buy this one. Love it.
Hitman Go
http://hitman.com/launching-hitman-go/
£2.99
I had zero expectations for Hitman Go, expecting an arcade game or first person shooter but what Square Enix has released is a great looking turn based strategy. You control your agent, dictating which path he takes through a level solving various puzzles as you go.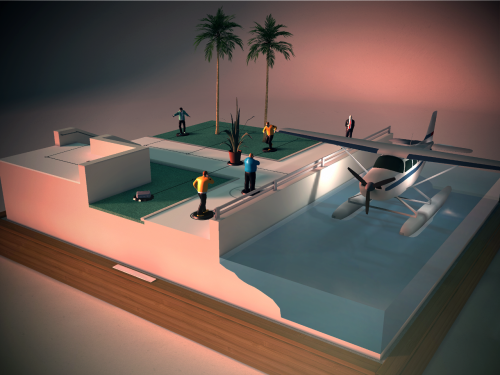 The game is a looker and can be viewed from any angle and it's great to see some of the big game developers developing unique mobile games rather than rushing out a crappy port. One note of caution is that there is an element of in app purchasing for hints and unlocks but they aren't needed to play the game and it doesn't get in the way when I'm playing. An impressive game which will take some time to complete.
Hearthstone: Heroes of Warcraft
http://us.battle.net/en/int?r=hearthstone
Free (with in-app purchase)
Hearthstone is a card collecting 1 vs 1 battle game. Collect cards and play friends or strangers in a number of different game modes. Presentation is fantastic and it's a very addictive game. There is in app purchasing but it doesn't blight the game and to be honest I've not needed to spend any money on the game. Excellent game and you can play against PC p;ayers too.
Dungeon Quest
http://dq.shinyboxgames.com/
Free (with in-app purchase)
Final game worth trying is Dungeon Quest. Don't let the free and IAP tag put you off. This is a great little Diablo lite dungeon crawler that supports various classes and plays really well. Great for blasting through a few levels if you've got 20 mins to spare.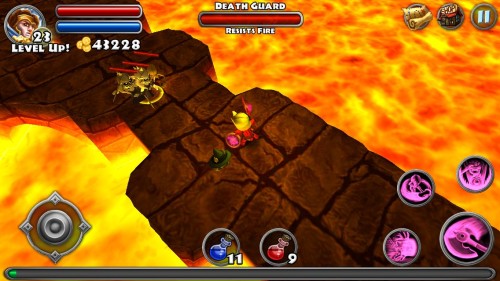 Hopefully there's something in that list to tempt you and after months of meh, it's a great time to game again on iOS.