tl;dr – The Xbox One is a good console marred by frustrating usability issues and a lacklustre set of launch games. Wait 6 months, let some of the issues get addressed and choose between a PS4 and Xbox One after E3 in June 2014.
It's been over three weeks since the Xbox One launch, the start of next gen console gaming (sorry Nintendo) in the UK. This time I'll be smarter I said. This time I'm only buying one console (I had the 360 and PS3) as my gaming time has reduced and the first party titles will dictate the platform, not the hardware.
On paper, and from initial reviews of hardware and games, the PS4 is superior from a hardware perspective. Third party games on the PS4 look better and also perform better however looking at launch titles, the only first party game I wanted to play was Forza 5 and looking ahead, Titanfall and Halo 5 are also must haves. Coupled with the 360 being my console of choice for the last few years, Live being a far superior online experience and most of my gaming buddies plumping for the Xbox One, the choice was obvious and the Xbox One was ordered. While I'm not regretting the choice, the Xbox One is unbelievable in so many area's.
Hardware
The Xbox One gets off on the wrong foot straight out of the box. The hardware is big, boxy and can be best described as industrial. Even ugly. The console is big and the power pack is external…and surprisingly it's bigger than the 360's power pack too. Bitten by the red ring of death, I think Microsoft have greatly increased their engineering tolerances with the One.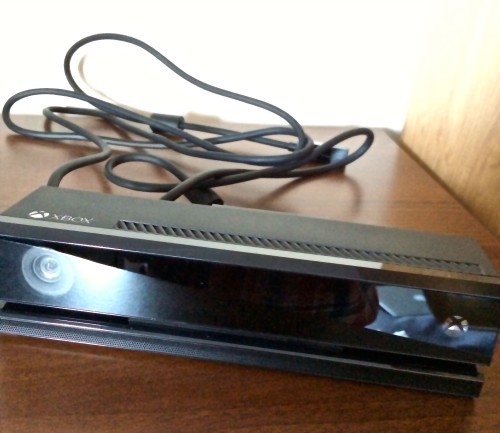 Also huge is the Kinect 2. Not just the camera and sensor itself, but the cable connecting the Kinect to the Xbox One. It's so thick! It's as if Microsoft found a job lot of RGB scart cables and decided to repurpose them. Worse, Microsoft are using a proprietary connector for the Kinect, which is really just USB 3, to stop you plugging it into a PC. That's the only reason I can see and smacks of the same attitude when the original Kinect was launched.
Thankfully the Xbox One pad feels great in the hand. It's seen small improvements over the 360 pad and is really comfortable. Rumble in the triggers is a really nice addition and thankfully they haven't tweaked the layout too much. The dpad is much improved and even the addition of ridges on the sticks really helps.
Switching on the Xbox One and it's pleasingly silent, well my second box was, more on that later. With it tucked away under the TV the offensive design is hidden from my eyes and instead I'm left with a powerful console that promises much. Microsoft are focussing the One not just on games, but as your entertainment hub. While this sounds good in principal and the demo's of the voice controlled TV channel switching are compelling, in practise the UK isn't supported at launch and even without the voice and channel integration, the Xbox One doesn't play well with 50Hz UK broadcast signals. Oh dear.
Hardware Issues
Before going on to the operating systems and games a word on the hardware. After a couple of hours a noisier than expected fan was becoming annoying. I thought this was the Xbox that was silent? Over the launch weekend it didn't get any better so after seeing an MS rep asking people with noisy fans to get in touch I raised a support call. 10 minutes of chat and troubleshooting (which involved rebooting the Xbox – that was it) and I was to raise a ticket and a new Xbox would be dispatched. The new one is certainly a lot quieter but with a few reported cases of really noisy drives it's disappointing that hardware issues continue to affect Microsoft consoles. My pad also disconnects but not consistently. Sigh.
Setup and OS
Switch on the Xbox One for the first time and you'll be asked to download the day one patch. At 500mb it's not too bad but once downloaded it takes a few minutes to install. With that done the home screen is finally launched. Well this is different but familiar at the same time. Random tiles placed around the screen with no order to it. Move right to the store or left to your pins. Microsoft hasn't learned from Windows 8 and instead has extended tiles to the Xbox platform and rather than touch is hoping that voice commands will be used to drive the console.
Are they insane?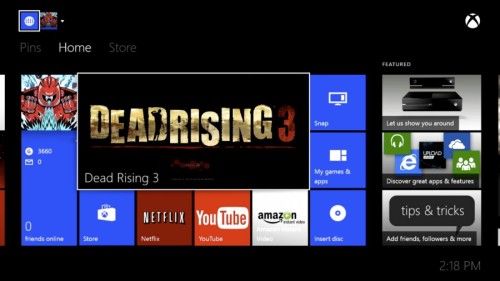 To be fair, navigating around via the pad is fine. The pins make sense although I'm sure they will get quite messy over time as more games and app's come out. However it is a quick way of getting to a new demo for example which in the latest 360 dashboard is a navigation nightmare. By reducing the UI to 3 top level screens it's also made it quicker to jump to various app's and features, with the home button on the pad always taking you home.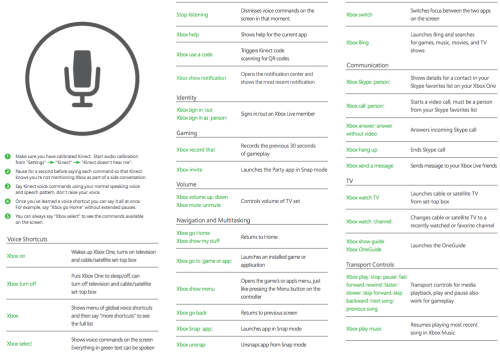 Navigating via Kinect isn't as successful. You can use voice commands or gestures to swipe and select. This doesn't feel comfortable at all and is still pretty inaccurate. When voice works it works really well. The One is always listening so saying Xbox followed by a command will, as long as your voice is recognised, launch that action. So 'Xbox record that' will record a 15 second game clip, 'Xbox Go Home' will take you back to the home screen and 'Xbox Snap [app]' will snap an app to the right of the screen. Some of the phrases don't make sense to me though. 'Xbox show my stuff' takes you back to the Home screen. Show my stuff is the best they could come up with? 'Xbox On' will wake up the Xbox, 'Xbox off' will switch off the Xbox. Actually, no – it's 'Xbox turn off' to switch it off – why not turn on and turn off – why the difference? Why is there no 'Xbox Eject' to eject a disk? 'Xbox Mute Chat'? 'Xbox Screenshot'? It all feels a bit rushed and for me I have real difficulty in getting voice to work reliably. I'm Scottish. Cue Burnistoun.
Trying to get voice commands to work while friends are listening and shouting 11 clearly doesn't help. Funny, but irritating. Navigating a UI via voice which only works every third or fourth attempt leads me to never trying voice and relying solely on the pad for navigating around the UI. A UI that has been developed to encourage voice and gesture not control via the pad. This doesn't feel like a step forward, more like a design that forces you to use voice even when it isn't reliable. Frustrating.
The dash performs quickly enough although it can stutter from time to time and some app's can take a while to launch. A real step forward is that the One can multitask and while this is a benefit I'm sure some of the stutter and slower launches are down to the app's or games that are currently running in the background. The multitasking is best seen with Snap. You can snap an app, web browser, party to the right hand side of the screen while your game or video is displayed on the rest of the area. This is handy but on first use it can be tricky to get rid of the snapped app – say Xbox Unsnap or press B and the snap will be removed.
I was surprised at how apps work on the Xbox One. Want to play a Bluray movie? Download the Bluray app. Same for music cd's – there's an app for that. You've recorded a game clip and now want to share it with the world – download Upload Studio. Third party app's, games, demo's etc are expected in the store but not some of these app's which I see as core functionality. A strange decision from Microsoft.
One final point to touch on is the boot time for the Xbox One – it's long. You have two options regarding power management. You can select a standby mode where updates are downloaded while the One is switched off but the reality is that the console isn't really off – it's in some sort of low power mode. The advantage is that boot times are far reduced, around 15-20 seconds but I don't want my Xbox to be on all the time especially as updates aren't that frequent so I opt for the full off option and that means boot times are around a minute. Ouch.
Live
The Xbox has always offered the best online console experience. Matchmaking was better, party chat saved many of us from the inane drivel from countless Americans and with everyone having a headset it made for a more collaborative experience in comparison to the PS3. How would Microsoft improve Live for the Xbox One?
They haven't.
Parties are now difficult to setup and manage compared to the 360. It is bizarre that on joining a party you then have to go into party options and enable chat. WTF? I joined a friend on Fifa last night after receiving a party invite and it involved so much faffing about while I was playing another match that I was almost dropped from the game. He even felt the need to send a message in case I'd missed the party invite as thats been the norm over the last couple of weeks but getting that message wasn't easy either. For me the biggest step back is around Friends.
The Friends application shows your Friends and your Followers. Followers are new, so like following someone on Facebook rather than friending you can keep up to date with what they are playing and doing on their Xbox. For me though the main point of the Friends app isn't to see what my friends have been playing over the last few hours but to quickly see who is online and then making it easy to start a party with a few of them. However Friends starts by displaying notifications, not who is online. So it's a list of crap like Cheesy was on his dash. Cheesy played Forza 5. Cheesy won a race. Cheesy is playing Battlefield 4 and so on. But is he online? Thats all I want to see. So I have to select Friends, wait for that to load and then I can see who is about. Microsoft is promoting notifications so again this has moved front and centre of the application but for me it's step back.
There is also no notification that a Friend has come online. I'm assuming they have switched of these notifications as you can now have 1000 Friends, so if you do have that many there will be constant notifications as you are playing a game or watching a movie. But it now means that we could be playing a game and have no idea that a couple of friends have come online and we should invite them in to the game. Compare to the 360 – a friend comes on and we can quickly and easily send them a party and game invite as we know straight away that they are on Xbox Live. At least give the user an option to disable notifications if they are annoying.
It says a lot that the easiest way to invite friends and create parties is via SmartGlass which is an app for your iOS, Android or Windows tablet or smartphone for controlling your Xbox One. Well done Microsoft. Well done.
The one fear I did have, using Skype for voice over Live, has proven to be unfounded. The quality is a step up from the 360 and it hasn't failed once. Well done Microsoft. Well done.
Games
So far, so average. Surely the launch games will lift the mood? The launch games were fairly disappointing to be honest. The one true next gen game looked to be The Division which was put back until 2014. With Titanfall also not due until March it was left to Forza 5 to be the main launch title on the Xbox One.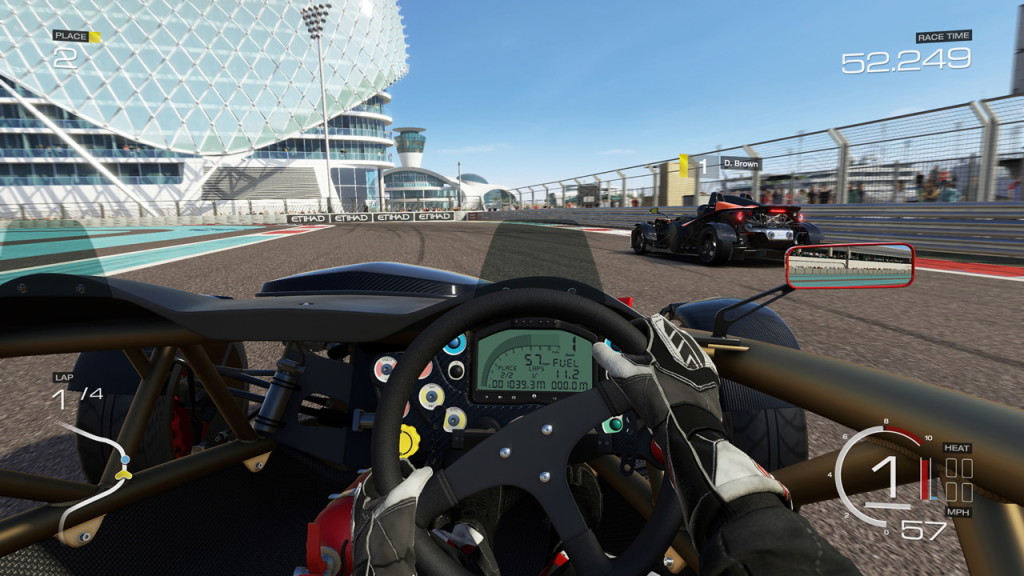 Forza 5 looks and sounds great. 1080p, 60fps and the tracks and cars (interiors too) look gorgeous. The handling is great and the new force feedback triggers really add to the game. However so much feels missing compared to Forza 4. It feels like tracks have been halved as the list of missing tracks from Forza 4 is extensive – Nurburgring, Nurburgring F1, Road America, Suzuka, Maple Valley, Mugello, Sunset, Camino and Fujimi. Worse is the grind and payment model that has been added. Car rewards that permeated the previous game have been removed, or so it seems so far. Cars have to be bought using in game credits or tokens and while credits are earned at a steady rate, you need to own a car to play it online and earn more credits and you start with one or two cars only. If the game was free and being funded by in game purchases I would be more comfortable with the model but Forza 5 is a full price game with a ridiculously expensive method of purchasing content built in.
The first online challenge was only available if you bought the first downloadable content at £7.99. For 6 cars. Fuck off Turn 10 and Microsoft. I won't be buying tracks either as I'm sure thats why so many have been dropped. While they have retained the great tuning and livery editors they have removed the auction house. Again, I'm not sure if this was all to meet the Xbox One release date and we'll see those features added but it's a strange omission. Forza 5 – a good enjoyable game marred by grind and in app purchase issues. Thankfully some of those issues may start to diminish as the first patch due soon will increase credits you can win at each race, reduce the price of cars and add a couple of game modes. Add in a track or two for the next patch and all will be well. One special mention to the day one patch you get when running Forza 5 for the first time. It's 6GB in size. That is ridiculous and hopefully it's a sign that the console release date was brought forward and it's not a sign of things to come going forward.
The two other games I picked up were Battlefield 4 and Fifa 14. Battlefield looks great (not as great as PS4) but has been marred with bugs, admittedly across all platforms, so it's still early days. I've been impressed with the maps though and it looks significantly better than the 360 version.
Fifa 14 feels like a 360 game with better animation. Stadiums have improved as has the overall presentation of the game but on the pitch it feels quite different, more realistic, a more fluent game than the previous versions. Corners and free kicks are noticeably different too – more than one defender challenging for a header for example. Small differences but they all add up to a more enjoyable experience. The crowds in the stadium are excellent and audibly react to the game. Nothing beats silencing a home crowd by scoring in a game. So not a huge step up but it has made a great game even better.
A final concern with these first releases is pricing. The next gen platforms has seen games move to a £50 – £60 RRP price which has meant Fifa 14 costing £47 on Amazon for example. That feels steep, but not as steep as the digital pricing for games. Both new platforms allow you to purchase and download games digitally. However with Fifa being priced at £55 on the Xbox One and £60 on the PS4 why would anyone bother? Some of the games come in at around 40GB too so its not a trivial download. One bizarre price is Angry Birds Star Wars – £35 on the Xbox One. £34 – £33 more than the iOS and Android prices…for the exact same game! Unbelievable and hopefully sales have reflected the ripoff pricing. Microsoft tweaked the pricing for launch titles in the last week…upwards. The reason – digital content pricing is subject to change. No shit.
Wrap-up
The Xbox One is a good console marred by frustrating usability issues and a lacklustre set of launch games. Over time I'm sure the UI will improve as will Kinect voice commands and much of the frustration in using the One day to day will disappear. The PS4 seems to be more powerful/easier to program for than the Xbox One and that is something Microsoft will have to address going forward. Stating that 'the power of the cloud' gives the Xbox platform an advantage reeks of bullshit.
Due to the lack of true next generation games I'd recommend holding off from buying either the Xbox One or PS4 right now as there is nothing that jumps out as being a must have title. That hasn't stopped both consoles selling out and there is no doubt there is an appetite for next gen machines….there's just not much to do with them right now. Let 2014's E3 take place and decide on a platform based on the games that are out and are announced. If you are desperate for one right now and don't have any allegiance to a platform then try and get the PS4. Good luck and happy gaming – there's lots to look forward to.