Spent some time in Manchester this week meeting strategic partners. Good honest session and lots to take away and work into future roadmaps. Even the trains were on time which is remarkable. I don't know why but trains are great for getting some work done and doing some country spotting, but the seats are just so uncomfortable for me.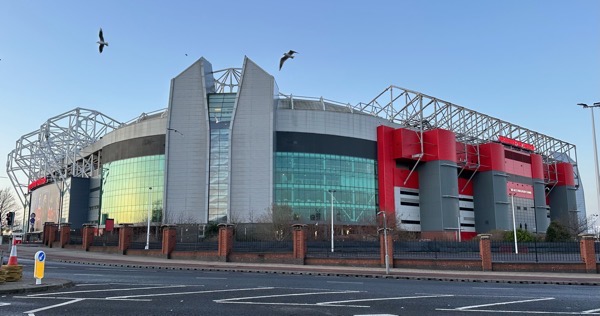 Took the opportunity for an early morning walk around Salford. Media city and the investments there are huge, and it was also great to see Old Trafford in the flesh. Was a lovely crisp morning – spring on the way but love these blue sky cold starts. We also lucked into a great night at Alberts Schloss. Fantastic food but it was the live band that made the night.
Overwhelmed
I've lasted longer than normal but had to crack open the work laptop and catch up over the weekend. Not something I wanted to do but mentally I hated being so behind with commitments. Being more public about it than I normally would will get me back into keeping weekends work free. It also meant less media watching this week but did have time for:
Ambulance – enjoyed it more than I expected. Won't win any Oscars…and I guess Michael Bay found out about this new tech called drones cause every second shoot was a drone shot.
Drive to Survive – although F1's season last year wasn't as drama packed Netflix still manage to squeeze out every last drop.
Better – watched 2 episodes so far and it's kept me interested. Wee bit formulaic.
Also want to thank cancel culture for finally dropping Dilbert from many newspapers around the world. I used to love Dilbert but it's creator, Scott Adams, has been openly racist and thankfully his public racist rants on his Youtube channel this week have had consequences. I think this was my favourite quote – "This is not a difficult decision," Chris Quinn, editor of the Plain Dealer in Cleveland, said in a letter to readers posted on Friday. "We are not a home for those who espouse racism."
Over
Chvrches released their new single this week – Over. A fitting way to close off this weeks post – they just keep getting better and better.