The new iPad. Announced on Wednesday the first surprise was the name – iPad. In hindsight it was obvious when you look at the rest of Apples product range – iPod Touch, MacBook Air, iMac and Mac Pro. It can lead to confusion when selling on your old gear but it's a clean way of dealing with product ranges, especially compared to the latest Galaxy Incredible Supreme IV.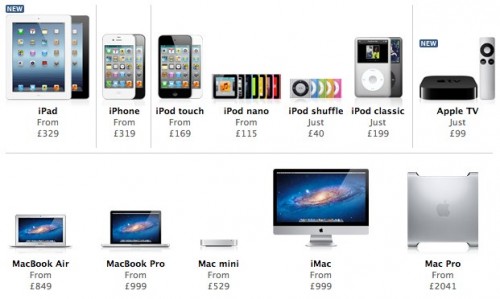 Standout new feature is the retina display. The display on the iPhone 4 when compared to the 3G or 3GS was such a step change and I expect the same on the new iPad. In fact it still boggles the mind that this time next week I'll be using a 9.7 inch screen which has 2048×1536 pixels. Thats around 50% more pixels than a 1080p TV and getting close to my 27 inch iMac. Boggling.
To power that step change the quad core graphic processor got the headlines but I think the 1GB of ram will be just as important. 4G LTE got headlines but is basically pointless in the UK. We may see HSPA+ later in the year in the UK but I don't expect much. The camera looks to be of iPhone quality and while handy to have I'm not sure how much I'll actually use it.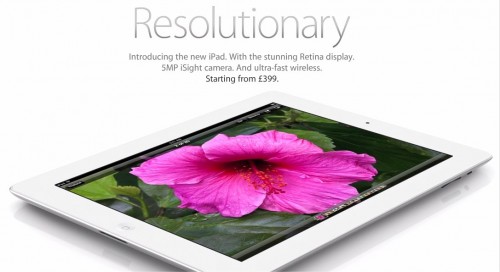 With that extra screen I wondered if battery life would suffer. It's great to get around 10 hours from one charge and if that had been impacted it would have been a real negative. However battery life is the same. How? The new iPad has a 11,666 mAh battery, 70% larger than the battery in the iPad 2.
A 70% larger battery but impressively weight has only increased by 49g. Thickness by 0.6mm. Disappointing was no Siri but a cut down version offering dictation. I'm looking forward to seeing just how successful this is with my Scottish accent. I'd also liked to have seen storage take a bump. 16gb will get used up pretty quickly with apps growing due to the retina display. How big will newsstand magazines be now – most come in around 500MB at the moment. I hope this calls for a rethink in how they are being produced and distributed. Anyway, I'd liked to have seen 32, 64 and 128GB options. Maybe next year.
The upgrade for me is a no brainer. I'm still using an original iPad so the upgrades – screen, speed, camera and the joy of a smart cover are ones I can't wait for. Amusingly the new iPad will also be thinner (3.6mm) and lighter (a whole 68g) compared to the original that I currently use. I've yet again went for black, 64GB and 4G. I do have a lot of apps and content so that space will be well utilised. While I could have used hotspot on the iPhone, I prefer to buy cheap Three sims from Amazon and eBay. It's worked well for two years, I'm not tied to a contract and it keeps options open should the UK mobile speeds pick up over 2012.
The new iPad looks to be a great update for me as an original iPad user though I can understand iPad 2 owners having a harder time justifying the upgrade…until they see that screen. Roll on March 16th.