Last year I posted on getting out and about and filling the Apple Watch rings each day. I said I wouldn't be too fussed about filling each month but that turned out to be not strictly true.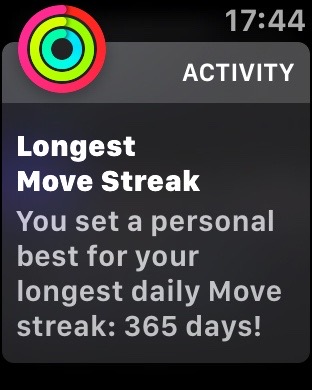 Today marked the 365th day of completing the rings. At least 30 mins of activity, 440 calories and the slightly more mickey mouse stand at least once an hour 12 times a day. Doesn't sound much but it's kept me from lazing around over the weekend and also forced me out at work to get a much needed break from the office over lunchtime. It's also delivered a few achievements in the last 12 months.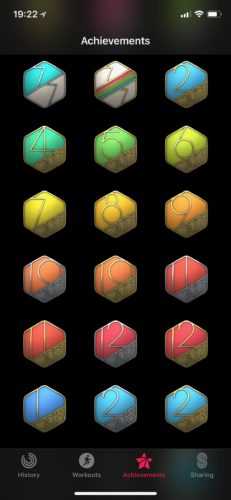 There have been a few weird days in amongst the 365 like getting of a flight at 22:00 and needing to walk for 20 mins, a couple of ill days where I forced myself out, the odd walk in the snow (loved it!) and the occasional soaking but overall it's been a great wee challenge to do. Not so great was trying to up the walks into cycles and runs – the body not quite right to take the extra excercise. Weight however has stayed pretty constant although slightly up this year so need to work a bit on bringing it back down.
Will I keep it going? No reason why not but I've no target now so won't be fussed about breaking the streak…although the complete year of workouts looks pretty nice 😉