This years big Marvel movie is Avengers: Age of Ultron and I managed to watch it yesterday afternoon at a fairly quiet Braehead Imax. It's a good watch and the Whedon strikes again with a great ensemble movie where so many have struggled in the past. I wouldn't say it's up there with Avengers Assemble or Captain America: Winter Soldier but definitely worth catching on the big screen. I do have further words on it, but those are spoilery so read on if you've watched the film or else be forever ruined!
The Good
Hawkeye – given more to do in this film and was very much the emotional heart. Don't like the actor but the character is great.
The Twins – thought they were well played and given a good enough back story to make them a worthwhile addition. Quicksilver was a much better character than the one in X-Men: Days of Future Past.
The opening sequence reminded me of how the good Bond films start and was a great welcome back to the Avengers.
The Vision was a great addition especially as the character was hidden from all trailers although it was pretty weird hearing/seeing Jarvis. Expect any people will hate the character but the aloofness was pretty funny.
Who can wield the hammer – very well done.
The hulkbuster scene was pretty intense and I regret seeing the trailer for this as it took away some of it's impact…but not all 🙂 One flaw – how can Hulk take down Levithians in Avengers but not a metal robot in Ultron?
Enjoyed the payback for watching the other Marvel universe films and TV shows as well as the comics. Makes for a much richer experience but if you hadn't seen Winter Soldier then much of this wouldn't make sense?
Killing Quicksilver – shame for the character as I thought he added a lot to the film but at least one of them died. Needs to be a bigger threat in these movies.
I'm amazed that each character got a little more backstory and they were mostly well told adding a bit of richness and warmth to the film.
The Bad
Ultron was the big bad in this film, so why did he carry so little menace? Voiced well by James Spader he never carried a big enough threat in my opinion. Some good one liners but defeated rather tamely at the end. At times he felt like a slightly camp Ironman.
Pacing and film length were poor. As a viewer you were dropped into certain scenes without explanation and I thought Thor and The Vision were short changed. Initial rumours were of a three hour film but the actual release was forty minutes shy of that and it showed. I'd like to think a Blu-Ray release showing a directors cut would come out later this year but thats not the Marvel way. I'm sure there's stuff that was in the trailers but not in the film – ah – there was!

Too many characters, some only on screen for a few seconds. It was all just a bit too much at times and the film suffered.
Marvel films have a definite template and while thats the same for many, like Bond for example, they come along every 3 years or so where as we are getting 2 to 3 Marvel films per year. I felt the end of Ultron was so predictable that it took all tension away and made for a slightly disappointing finish. On reflection the film was better than it's ending but it left me flat when I left the cinema.
Ultron lacked some of the scale of the first Avengers film – the set pieces never seemed to match the first film…or the trailers.
Spotty CGI in places, especially Black Widow on the bike. I also wish movies would stop with the "Sorry", "Excuse Me", "Oop's" type comments when a hero is driving through traffic/people. "Get out the fucking way" while ruining the chances of getting a 12A certificate would be far more entertaining.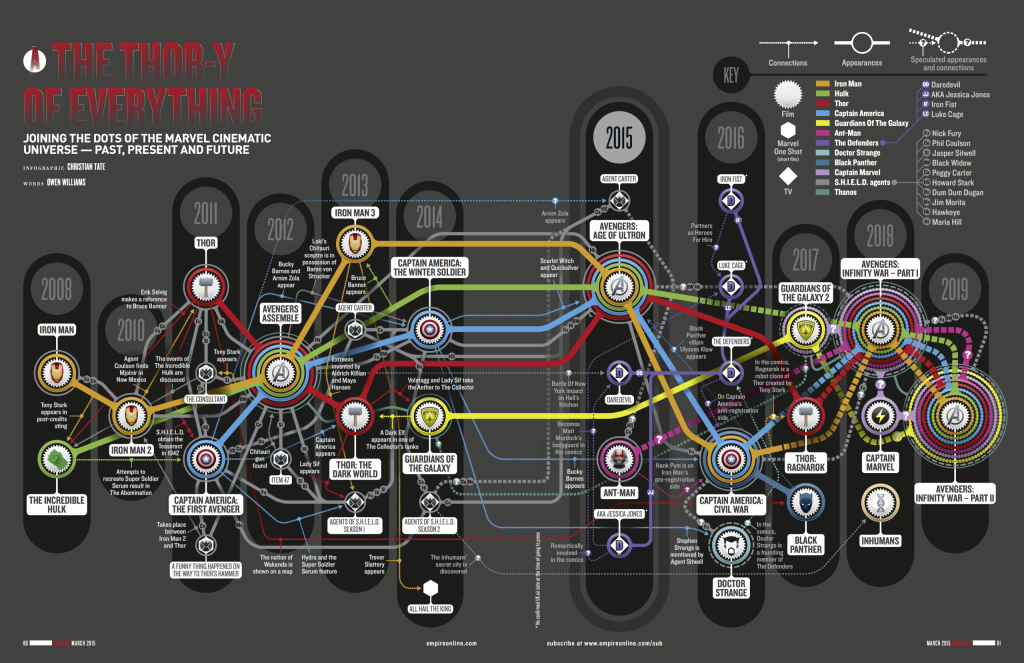 The Future
Next up for Marvel is Ant-Man which I can't say I'm expecting much from but after that is far more interesting. The above graphic from Empire a couple of months back shows the upcoming films and how everything is linked in the Marvel universe. Some of it is speculation but what we do know is that Captain America: Civil War will feature Team Captain America vs Team Ironman and will be directed by the Russo brothers who were behind the Winter Soldier. This is "a good thing" as Winter Soldier was one of the best Marvel movies so far. They will also take over from Joss Whedon for the next Avenger films and all I can say is good luck for all three as juggling so many characters in the one film isn't easy.
I never thought I'd say this but I'm getting a bit jaded by superhero films – all much of a muchness and thanks to the money Marvel have made, Fox and DC are cashing in too. Look at just how many superhero movies are coming out in the next few years! They need to start offering something different and hopefully some of the Marvel titles will do that as they are branching out from their main titles which should see them offering something a but fresher – like Guardians of the Galaxy.
But thats in the future. For now, go and enjoy Avengers: Age of Ultron and the mix of fun and action that Joss Whedon has delivered. It was over-hyped and he deserves credit for almost delivering on the promise.