The last few weeks have been full on, dominated by work and not much else. It niggled me that the weeknotes dropped after only three weeks, but when I kicked these off again I refused to get caught in having to post every week. I'd like to, but if I don't have the bandwidth or feel in the right headspace to post then I won't. There's also a growing list of tasks that I need to put some effort into, but I keep pushing them back a week..or two…or twenty. Reading Ian Betteridge's weeknote today struck a chord – I have a growing list of somedays that I need to turn into action. Is it an age thing? Is it laziness? I've got someday tasks from two years ago – thats really poor.
One interesting focus at work is growing the team, not just in numbers, but with the right training and opportunities. I think I'm getting bogged down in fairness for all with regards opportunities vs those that are pushing for more and letting them flourish. Also had a few interesting discussions around how we could use and exploit ChatGPT or LLaMA but securely and reliably with confidence. I've ended up playing locally at home with LLaMA riffing on Simon Willis's post on how to get it up and running. It feels even stranger that something running on my Studio is able to parse and have conversations with really good accuracy. Next area to dabble in is LangChain thanks to this post from Matt Webb. This plugged into some corporate data sources could yield interesting results.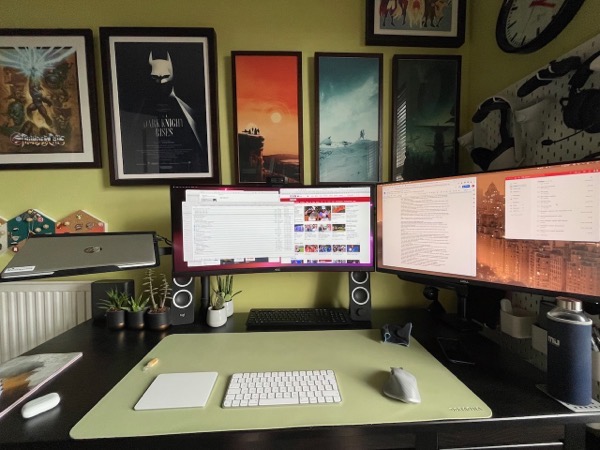 I'm happy with my home office. A 34" ultra wide in the centre and a 27" 4k to the side is a great setup that works with the Apple Studio, the work laptop or the gaming PC. I'm much more productive with multiple screens – the more the merrier. The only niggle I've had is with the desk itself. One of my long time someday projects is to replace it with a sit/stand offering – something like the Jarvis. I'm more tempted this weekend as the Jarvis is on sale so will decide in the next day or two as it will require a rewire of some of the networking and also probably a paint refresh in the room. Thats why it's a someday project as it's not just swapping out the desk…but I do have some holidays coming up. Tempting.
The SNP leadership race is in "tremendous mess". So says Mike Russell who's running the race. Wow. When Sturgeon announced her resignation it was clear this was the end of an era in Scottish politics but the in fighting, resignations and stench around the SNP is surprising. We'll know the winner of the contest and Scotlands next First Minister on March 27th assuming there isn't more scandal around the process. I wonder if a losing candidate if it's close will accept the result or ask for a re-run in light of some of the news in the last two days which comes a week after voting started.
The Last of Us ended this week and did so strongly. A couple of slow episodes didn't hurt the series which is one of the best in years. Also enjoyed A Man Called Otto. The Whale however was dire. Some other things that caught my attention: