So Trump's first week has passed and what a week it was. He was exaggerating during the campaign they said. He won't do things like the wall they said. There will be a replacement for Obamacare they said. There won't be a muslim ban they said.
They were wrong.
In his first week Trump and his team wrote executive orders that have reset America's position in the world.
Trump's First Six Executive Orders
Minimizing the Economic Burden of the Patient Protection and Affordable Care Act Pending Repeal: This executive order attempts to loosen financial elements of Obamacare.
Expediting environmental reviews and approvals for high profile infrastructure projects: An order to quicken environmental assessments of U.S. infrastructure projects.
Border security and immigration enforcement improvements: The contentious order to construct a wall between Mexico and the U.S. southern border. Trump has repeatedly vowed that Mexico "will pay" for the wall, which the country has denied. This executive order led Mexican President Enrique Pena Nieto to cancel a meeting with Trump.
Enhancing public safety in the Interior of the United States: Trump ordered more resources for immigration officers to crack down on undocumented immigrants in the U.S. and to limit funding for sanctuary cities.
Protection of The Nation From Foreign Terrorist Entry Into The United States: An order that suspends the U.S. refugee program for four months to weed out "radical Islamic terrorists" from entering the country.
Order to grow military: On Friday, Trump signed an order to spur "a great rebuilding" of the U.S. Armed Forces.
Trump's First Eight Presidential Memoranda
Memorandum for the Heads of Executive Departments and Agencies: An decision to pause any federal regulations put forward under the Obama administration until Trump's team can review them.
Mexico City Policy: An order to revive Reagan's anti-abortion policy.
Regarding Withdrawal of the United States from the Trans-Pacific Partnership Negotiations and Agreement: An order to scrap negotiations regarding the TPP, a massive international trade agreement negotiated under Obama but not yet ratified by Congress.
Regarding the Hiring Freeze: A decision to halt hiring of new federal workers, excluding military jobs.
Construction of American Pipelines: According to this move, new pipelines should only be made with American-made materials.
Regarding Construction of the Keystone XL Pipeline: An early approval of the Keystone XL pipeline. The gesture seen as a pre-emptive measure since firm plans for the project have yet to be formally approved. Since the executive action, TransCanada has submitted a new presidential permit application for the pipeline's approval.
Regarding Construction of the Dakota Access Pipeline: The controversial pipeline project in North Dakota, where protesters have been camped out for months, has been prioritized by Trump.
Streamlining Permitting and Reducing Regulatory Burdens for Domestic Manufacturing: Under this action, Trump has asked for a plan to make the permitting process simpler for American manufacturers.
As if those weren't bad enough…lying about the inauguration crowd size. Banning government agencies from talking on Twitter unless they go through the White House team first, leading to many rogue twitter accounts being setup allegedly by employees fighting the order. Resisting from within.
Worse is the power that Nazi sympathizer Steve Bannon, currently in charge of American foreign policy, wields within the White House. Bannon who runs the right wing Breitbart got named to the National Security Council. He is setting America's immigration policy. He's a fucking Nazi. In the White House. On Friday the White House released a statement to commemorate International Holocaust Remembrance Day with no mention of Jews, Judaism or antisemitism. The reason – Trump's administration "took into account all of those who suffered". Nazis.
The muslim ban seems to have been the final straw for many not just in America but around the world. World leaders are openly condemning and rejecting Trumps policy. Tech leaders are finally openly condemning the ban as well, although not all. Unfortunately Theresa May and the Conservative government found themselves on the wrong side of the argument. Worried about trade deals and with Brexit pushing her into a corner she eventually blurted out "The United States is responsible for the United States' policy on refugees, the United Kingdom is responsible for the United Kingdom's policy on refugees." Cards marked.
"The way Germany treats Jews is up to Germany, it's got nothing to do with Britain."
Prime Minister of Britain. 1939. pic.twitter.com/Pw2NmzROTE

— Spitz (@CallMeSpits) January 28, 2017
Many hours later and after many countries had made their objections against Trump clear, May came out with a weak statement. Prime Minister Theresa May does "not agree" with Donald Trump's refugee ban and will appeal to the US if it affects British citizens, Downing Street says. Does not agree is pretty weak but just a few hours earlier it was a matter for the United States. May was caught out or maybe it was her true colours.
#TheresaTheAppeaser pic.twitter.com/kaXdxguRqU

— Nathaniel Tapley (@Natt) January 29, 2017
Trump has also lost his first legal challenge thanks to the ACLU. Their blog post on their win makes for sobering reading but also has a great quote:
The United States is a nation governed by the rule of law and not the iron will of one man. President Trump now has learned that we are democratic republic where the powers of government are not dictatorial. They are limited.
However it looks like the government will enforce the new ban despite the ruling. For those who think the muslim ban makes sense, some facts. No doubt there will be alternative facts presented at some point but you need to believe the data and not your racist views at some point.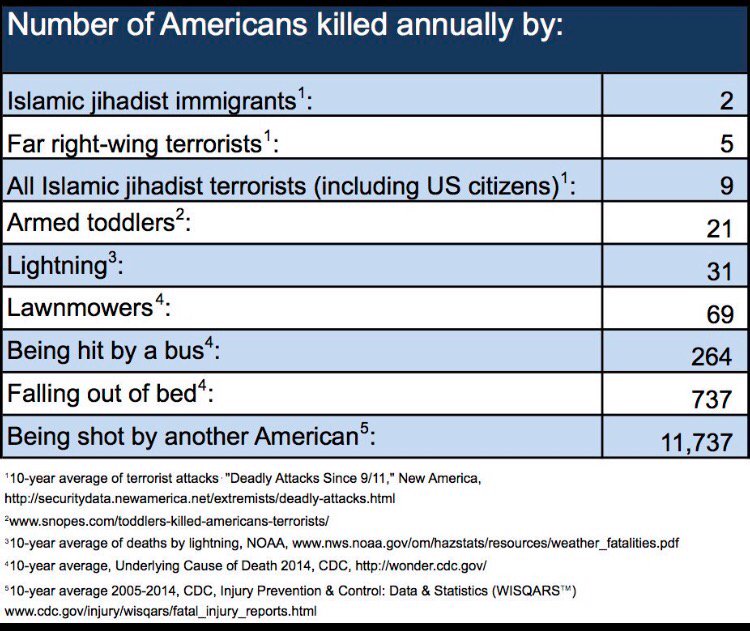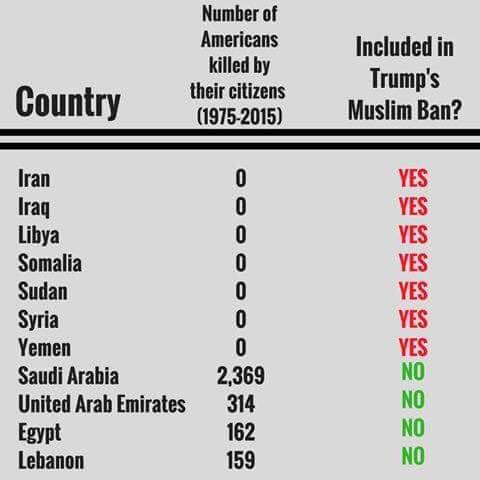 The scary part is that agencies in America are following through on these executive orders without it seems much questioning. What happens when an executive order is written that you are against? What then? Sit back and take it? Those involved in the legal case are already being victimised on social media and being threatened, just like brexit in the UK. The parallels are clear.
So what to do? Fight. Resist. You don't just have to accept which is repeatedly what the leavers tell the UK. If recent votes had swung a couple of percent the other way would the right wing have sat back? So why should everyone else. Thanks to Richard here's Roger Waters nailing his colours to the mast.
Donate to the ACLU, help bring Hamaseh Tayari home or sign this petition to prevent Donald Trump from making a State Visit to the United Kingdom. Best of all, don't bury your head in the sand or ignore what is happening no matter how bleak it seems.
Fuck racism, bigotry, and hate no matter where it happens or who does it. And fuck Trump and his Nazi staff.