Since I was a kid I always wanted a radio controlled plane or helicopter. In fact it was always a helicopter thanks to Airwolf. Over the last four or five years as drones have quite literally taken off as a consumer product I've came close to buying one as the technology and ease of use has matured and the price dropped to more reasonable levels. What put me off was buying the drone was always just a part of the full solution. Next was a GoPro, then a gimbal…and then connections to iPhones/iPads for your remote. The list went on and it all felt a bit of a faff when I just want a drone and I can go out and fly.
Then Paul posted a video.
The Phantom 3 he purchased seemed to offered all I wanted…so a couple of weeks later I ordered mine. Yes – I have a drone. Arrest me now!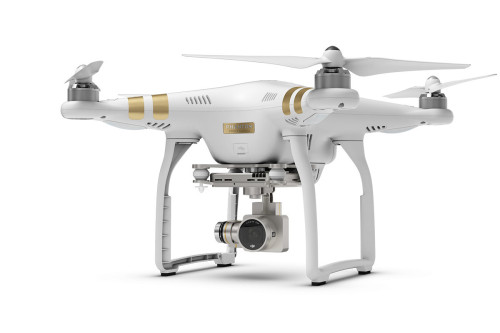 I picked up the DJI Phantom 3 Professional whose main difference with the Advanced is that it will record video in 4k. Out the box the Phantom needs quite a bit of setup. Firstly you need to charge the battery and the remote control. This takes a couple of hours. Whats nice is the remote control can now use an iOS or Android device to act as a screen which will receive live video from the drone. When I priced up the Phantom 2 you needed the drone, a light bridge plus camera but the Phantom 3 has all this built in. So I fired up the drone and the remote control and launched the DJI Go app…which complained that I needed to update the drone firmware and the firmware on the remote. Damn – another hour.
So out the box the drone can take a bit to setup and there isn't much in the way of documentation. The full manual isn't included but can be downloaded from the DJI website. More useful was this Phantom 3 Checklist from The Phantom Guide.
With the firmware updates done and an IMU, gimbal and controller calibration completed too I was ready to fly.
First Flight
I was a bit nervous about flying the Phantom for the first time but I needn't have worried. The Phantom has three flying modes – P, A and F. P-Mode is the default which is positioning mode. This mode will use GPS and the built in vision system (downward pointing camera and infrared sensors) to help maintain position and makes for far easier flying.
I went out very early so I could fly without disruption and also make the most of a good weather forecast. Movement was a bit more rapid and jerky but not too bad for the first time.
You start in beginner mode which restricts you to 30m but I switched that to 120m and….oh boy. The views were fantastic and I was really spoiled for a first go as the weather was perfect.
The photo's out of the Phantoms built in camera are excellent and only needed some slight tweaking in Lightroom. I was also impressed with the video. The Phantom + gimbal give incredibly steady video and with some practice in controlling with a steadier hand it should lead to some excellent footage.
I did throw the drone around during these first flights. It moves pretty fast but the movement is predictable so as long as I take some care I should be ok. Landing was also easier than expected probably thanks to the mode I was in. The DJI app has a button to automatically take off and land but I prefer to do that myself. There's also a return to home button if you lose sight of the drone or the drone loses contact with you. I've not had need to use this yet but it's great that the feature is there.
What did take me by surprise was how quickly it rose. It was easy to lose sight of the drone especially in the bright morning sky. The live feedback from the camera worked well and I didn't have any issues with the drone going out of range but I wasn't pushing it on this first go. The app is much better than I expected. You have full control over the camera settings just like a typical hand held camera. You also not only get a live view from the camera but a map showing you and your drones position. After you've finished there are full flight logs showing where you were, the photo's you took and also the control inputs during the flight. Impressive.
QEC
The following day the QEC block was to be barged down the Clyde. With another good day forecast it was a great opportunity to record the event via the drone.
I really wanted to swoop by the block as it passed and spin in front of it but I crapped myself. What if I hit it? What if I lost control. Second day nerves but head ruled the heart on that one.
There was also a few more people around despite the area I picked being really quiet. Around half the passers by asked about the drone, what it cost, what happens if it falls in the water (obvious really?) and a couple stayed to watch me take off and take some pics. No one was negative about it which was pretty cool.
Accessories
As with all new gadgets you always have a need for accessories. The must have for the Phantom is a battery. It comes with one but that gives you a maximum flight time of 25 minutes, more likely 20. However a spare battery doesn't come cheap – £124 for one extra battery. Ouch. When I picked up the Phantom 3 I went for a package which included an extra battery, extra charger, spare props and landing gear, larger SD card and a bag for carrying the drone. Overall the package saved me around £200 and the battery and extra charger are really useful – charging can take quite a while so being able to charge the two batteries at the same time is great. Over time I can see me picking up at least one other battery but the two are fine for now.
There's a massive aftermarket for the Phantom drones and I've picked up a couple of extras to protect the camera and gimbal. The supplied gimbal protector is a bit of a faff to fit and doesn't protect the lens. So I picked up a 3D printed gimbal holder and lens cover which fits a lot better. I also picked up a gimbal guard which attaches to the drone and should protect the gimbal which looks pretty fragile when landing. Probably a bit OTT but piece of mind is no bad thing.
Apart from the battery I've got my eye on another couple of accessories. The iPad screen is almost unreadable on a bright day so I was running for shade a few times. I'll pick up a sun shade at some point although it's not an immediate need. I'll also look at getting an ND filter or two for the camera especially for those dawn and dusk shots.
For Your Consideration
I'm thrilled with the Phantom so far but there are a few things to think about if you are interested in buying one. I went for the Professional but the Advanced would have done fine as the 4k video is really a nice to have. It also makes for much longer video editing and large files. The quality is stunning though. Video editing is also something new to me. For photo's I love Lightroom and know how to get the best out of it but for video's I'm a bit lost. New skills ahead!
The main consideration is flying legally. When flying in the UK you need to keep the CAA rules in mind. You don't need a licence to fly a drone if you are doing non commercial work but when you see the speed and power in the Phantom I can see there being a call for all users to be trained/licensed in some way. Two main points are keep under 400ft (120m) and keep 50m away from people and buildings…which is actually quite difficult to do.
One last point is that this is an expensive hobby. The drone itself costs a fair bit (£1200) plus the accessories but there is also the knowledge that at some point an engine, rotor or worse the camera/gimbal will be damaged or need repairing/replaced. None of the main parts are cheap so have that in mind when buying a Phantom.
Fun!
I can't finish this write up on a negative though. The Phantom 3 is a great piece of kit and it's so much fun to pilot. I've loved the outings with it so far and the images and video's have exceeded my expectations.
I've got a list of places that I want to visit over the coming months but I'll bide my time as I want to try and get the right weather conditions for some of them. However I'll be getting the drone out again even just to fly around and practice. I'm also looking forward to upcoming software updates that will allow you to pick a point of interest and the drone will focus on it as you fly around and also the ability to set waypoints so you can pre plan flights.
I can't wait.