Like most things with the blog, I'm late to my 2021 wrap up post. Last year was deja-vu from 2020. Still mostly working from home, covid still dominating and much of the focus was on staying healthy and following the rules with the big difference being covid vaccines and hopefully a path to living with covid thats a bit more normal than what we've had for the last two years.
Fitness
I'd no big plan for 2021 apart from keeping my daily walks going while working from home. Thanks to Chris doing a virtual Lands End to John o' Groats walk through the year I thought I could up my walks to do a little bit more each day/week.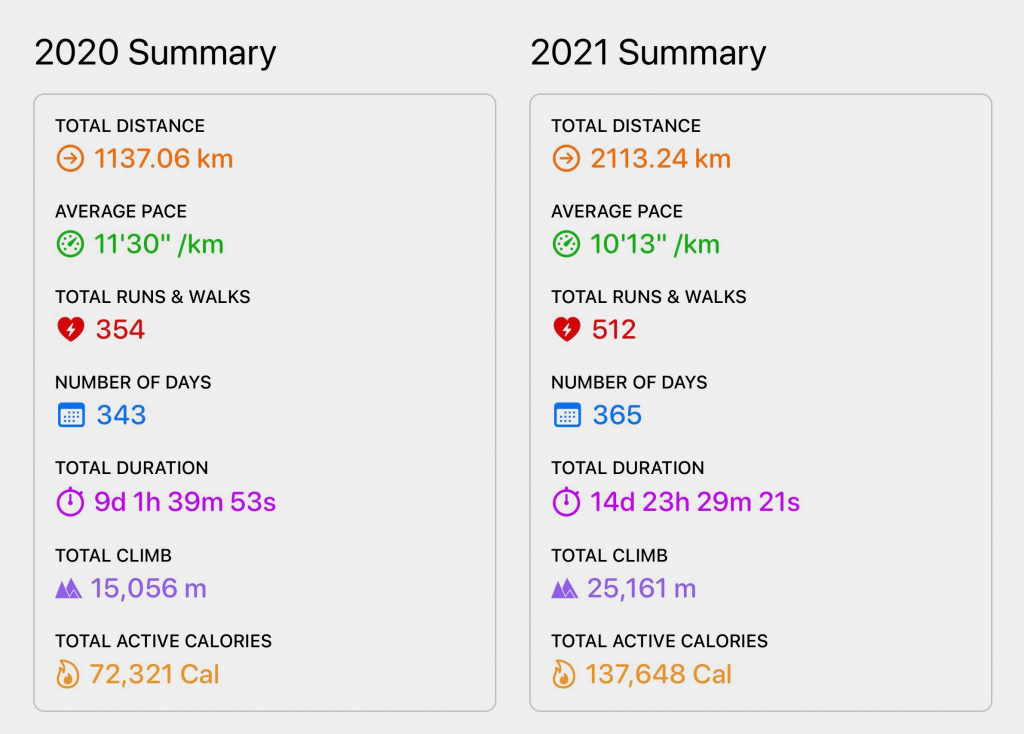 Around the end of August I realised that if I'd been a bit more ambitious I could hit 2000km for the year so I upped the distance and also the pace.

Boom – 2000km hit by mid December. I find the walking essential as it clears my head, gets me out of the house and also helps with the ever constant weight battle – more on that next. Would love to get back to running but thats not an option at the moment. As for 2021, more of the same. Want to make 2000km again and maintain the pace.
Health
As well as following covid rules and getting vaccinated as soon as it was available one issue I had was my weight. Through 2020 and then the first half of 2021 my weight was slowly creeping up. A weird weight loss at the end of 2019 had masked the gradual weight increase but hitting 91kg in July from a maintained low of around 83-84kg was the kick up the arse I needed.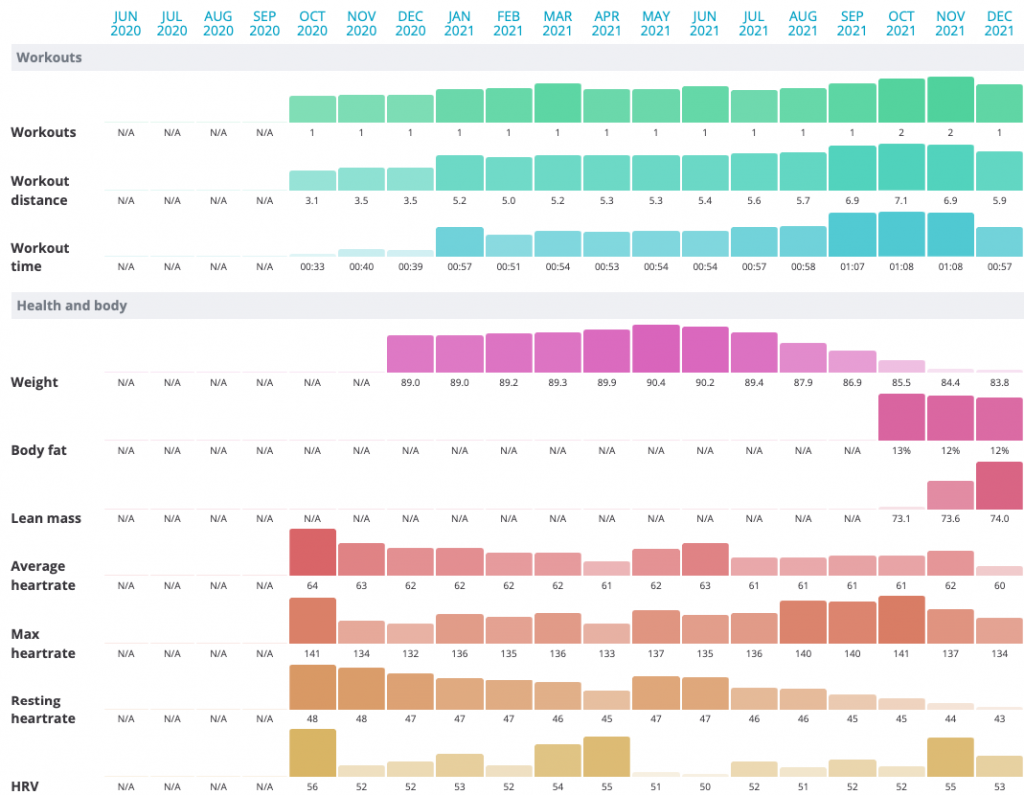 Over the last 6 months I cut out some of the extra's (bread!) I was having and coupled with the walking + pace increase has seen the weight drop back down to 83-84kg. Really pleased to get back down into that range. 2021 aim – maintain!
Not so good was sleep towards the end of the year. Through November and December I ended up averaging 4-5 hours sleep per night which is nowhere near enough and miles away from my normal of 7 hours. Can't really call out a strong reason why although suspect work pressures/stress were the major contributor. Frustratingly the year ended badly with a real flair up of the chest illness I had a few years ago. So I'm back at the doctors and awaiting blood test results. It's not stopped the walks although I have had to drop the pace a little but one by product is I can sleep all the hours. I wonder if the lack of sleep has ended up causing a relapse? Time will tell.
Media
Thanks in part to covid and also the massive amount of money being invested due to streaming, TV now dominates film for me. There's just too much TV to watch although I had a good go through the year in watching it all.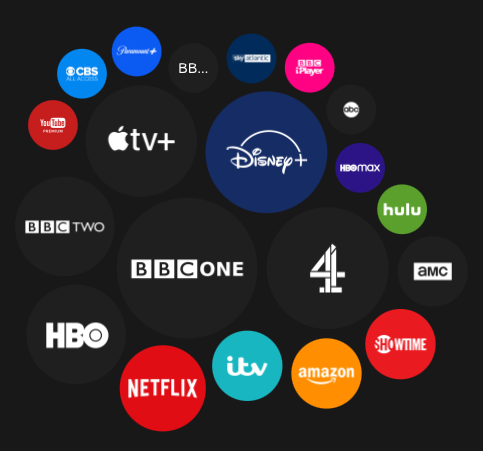 Surprising was how much the BBC and Ch4 dominates my watch time although many of the other networks you could lump together as Sky in the UK. Some shows that I watched and enjoyed through the year were:
Ted Lasso – season 2 was never going to live up to the season 1 hype but was still an enjoyable watch
The Expanse – season 5 and most of season 6….only one more episode left before it comes to an end! One of the best shows out there.
Line of Duty – another show that was never going to live up to the hype but still enjoyed it
Cobra Kai – a really easy but enjoyable watch
For All Mankind – best show on Apple TV+ – season 2 was excellent and a step up on the first
Vigil – enjoyed it especially the location spotting in Glasgow and the West Coast
Wandavision – outstanding – loved it
Loki – like a good season of Doctor Who with a bigger budget although the end underwhelmed
Great British Bake Off – classic season although still maintain Jürgen was robbed
The White Lotus – great to watch although not sure it landed the ending
This Way Up – cracking comedy/drama on Ch4
Showtrial – Another beeb drama that kept the suspense going week to week
It's a Sin – stunning. If you watch only one thing from 2021 make it this. Joyous and sad at the same time.
Succession – essential, even just to hear another Fuck Off
Also binged Halt and Catch Fire from a few years back and highly recommend it. Next on the list of classics for me to tackle – The Soprano's or The American's…but I've got a few things from last year to finish off first.
As for films, Zack Snyders Justice League was surprisingly good, No Time To Die was a great end to Daniel Craigs Bond run and Dune was stunning…roll on part 2.
Games had a better year. Forza Horizon 5 and Halo Infinite came out in the last couple of months and have been excellent. Most surprised by Halo after the delay in 2020 and the worries around the graphics and the studio. Returnal on the PS5 is a pretty stunning game to look at although I do struggle with the gameplay. I've got Metroid Dread to play plus a couple of PC and Xbox games but I'd say 2021 has been one of the best years for games in a long time…and 2022 is looking just as strong if not more so.
And finally a shout out to a simple game thats taken the internet, and Twitter, by storm – Wordle. A daily word puzzle that has no ad's, no multiplayer, no in app purchase. I love it especially the sharing on twitter by fellow players and trying to work out their opening words/moves.
My effort from today:
Wordle 204 3/6
🟩🟨🟨⬜⬜
🟩🟩🟩🟨⬜
🟩🟩🟩🟩🟩
Tech
A strange year of virtually no tech purchases. Thanks to a power cut at home I needed to buy a new printer, and I hate everything to do with home printers so that was a real grudge purchase. Mid December and my iMac failed which turned out to be a failed logic board (maybe power cut related???) so that was an expensive fix too. The only notable new tech this year was the Oculus Quest 2 which I picked up late December. Not used it much but surprised by how good the visuals are and how easy it is to use untethered from a PC.
One area I did invest in was upgrading my NAS, not by buying a new one, but upgrading the RAM and replacing all the drives as I had virtually no capacity left. My Synology is almost 7 years old but still supports the latest software releases and with the extra RAM and faster drives, Plex and also a couple of docker images are running better than ever.
2021 saw no new Apple purchases – so still using the iMac from 2017, iPad from 2018, Apple Watch from 2018 and the iPhone from 2020. 2022 will be different though. Really want to move to a new Mac with an Apple processor and leave the Intel to PC's. Will wait for iMac and Mac Mini updates in 2022 before making a decision but leaning towards the Mac Mini and another monitor rather than heading down the iMac route again. Also expect to pick up a new Apple Watch in September/October but still undecided on the iPad as it's still doing everything I need it to do so might squeeze out one more year.
As for other tech, if I could lay my hands on a new PC graphics card I could be tempted into an upgrade. A new camera to replace my Fuji XT-2 is also on the radar as I'm a couple of generations behind…but thats an expensive 2022!
Themes
As before I don't do resolutions but look for overall area's to improve or focus on. One that stands out is simplifying both in and out of work. Juggling a lot and need to focus on the things that matter and drop the rest. Second area is on health and focussing a bit more on understanding me, my body and also my diet. That's a challenge but the biggest improvement would be to have a more positive and normal year. Fingers crossed.