Last nights Apple event was interesting for a number of reasons. Firstly they were finally detailing the Apple Watch and it's been five years since Apple launched a new product category and it always fascinates me how Apple pitches and shapes their message. Secondly, so many people predicted that the keynote was all about the watch….wrong! Finally, no one predicted that Tim Cook would start with the Apple TV. Here are my quick thoughts on the products and message from last night.
Apple TV
No one expected Apple to lead with the Apple TV but the HBO Now announcement was a big deal. Exclusively launching on Apple TV for the first three months and in time for the new season of Game of Thrones this was what many users were wanting for years although $14.99 a month seems a bit high compared to Netflix.
Apple TV drops to £59. Thats it. No new hardware, no app store. I'm not the only one that was disappointed with that. Surely the hardware will see an update this year? Surely?
ResearchKit
Following on from puff pieces on CarPlay and HomeKit I wasn't expecting much on health but ReasearchKit was afforded 15 minutes on the big stage and afterwards it was clear why.
This is a massive opportunity that started with the M7 processor in the iPhone 5S. Data is being captured and while it's mostly seen as steps, it's only going to get richer and help with medical research and diagnosis.
Apple Will Not See Your Data – clear message to customers and competitors on what differentiates Apple. Apple will need to be repeat this again and again along with the security message that they have been playing out recently.
Cynical view – we're about to sell a $10000 watch so contrast it with a good news story but I don't believe that to be the case.
Apple will open source ResearchKit so it can be run on any platform.
5 apps already available and more on the way – this will be very interesting to watch over the coming years as the technology packed within phones and watches gets ever smarter.
MacBook
My favourite part of the whole event. The new designs shown throughout the new MacBook were impressive.
The new keyboard mechanism looked great although early feedback seems mixed.
The force touchpad shows so much invention…apart from it's name.
12 inch and Retina but so light and thin.
USB-C. One port. £69 adapter to get a data, video and power connector at the same time. If I look at my MacBook Air usage now though, that one port is enough.
CPU is a bit stingy looking but…Fanless! How will I tell when Flash is running? (clue – it's not installed cause it's a piece of shit)
All day battery is good but you are basically buying a battery with a screen and keyboard.
I'll wait for reviews to see what playback looks like but assuming it's OK, I'll be buying a MacBook this year to replace the current Air and probably the iPad too. Next year, an iMac Retina to replace the five year old iMac. I do think the MacBook is the future of laptop design and the only other niggle is that this is rev 1.0 of the MacBook and the next version is probably the one to buy. But thats too much like common sense.
Apple Watch
Strange intro as Tim Cook recapped all the features.
Christy Turlington Burns was on stage to enthuse about the Apple Watch, running marathons and blogging about it at Apple.com. Felt totally false.
Kevin Lynch took to the stage to demo the Apple Watch in a real world scenario. Flawlessly done but pretty dull including the ubiquitous airport gate change demo.
18 hour battery and the news that it's replaceable still feels a 1.0 target being met. Like the heavy first iPad Retina which was updated after 6 months. I don't think we'll see a 2.0 watch that quickly but I do expect next years product to be much better.
It was then onto pricing which was pretty much in line with much of the speculation including the expensive Edition pricing.
Apple never really sold a compelling reason as to why I need an Apple Watch. I found this part of the event underwhelming and pretty disappointing compared to other product launches. Will I buy one? Probably not although there is a bit of me that feels I should have one to try. I bought and instantly sold a Pebble and if the Apple Watch had a GPS I'd find it a more compelling product. It's a wait and see right now.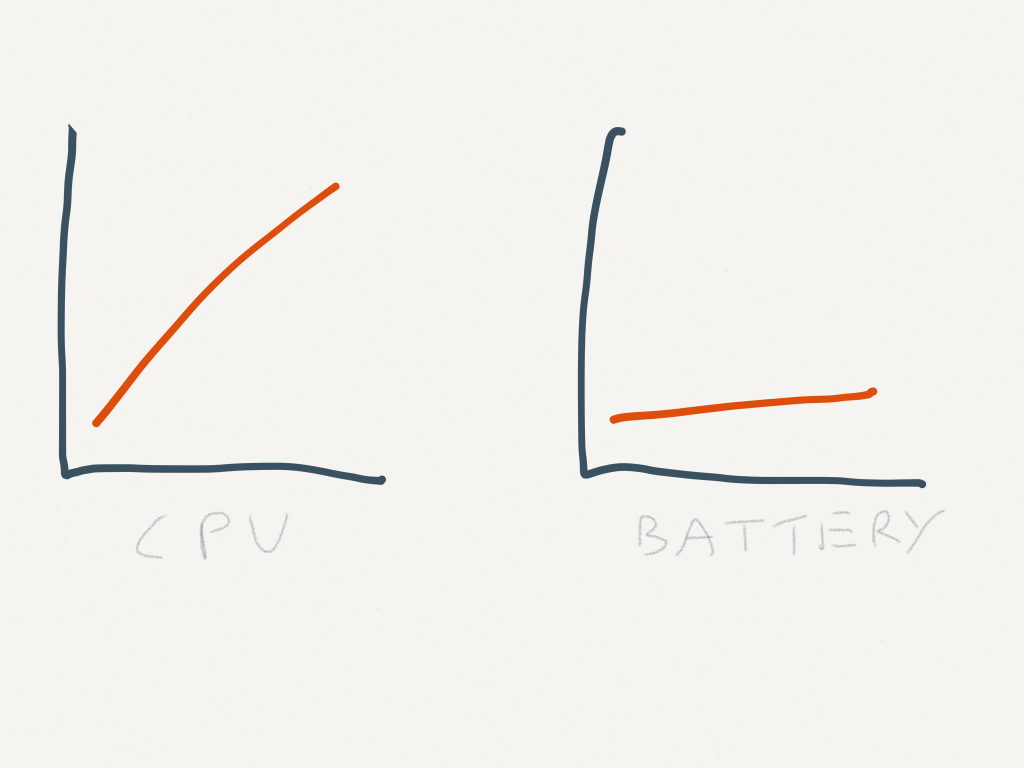 Misc
Apple has mastered rolling out their products around the world quickly and efficiently. The same can't be said for their services. Apple Pay, iTunes Radio, Beats, HBO Now and the initial batch of ResearchKit app's are all US only. It's only getting worse and becomes a bigger issue when the services are being used so heavily to promote the product. I hope they start to take this more seriously and while licensing is a complex issue, money helps and they have a lot of money so if anyone can fix it I expect it to be Apple.
Battery technology is becoming more of an anchor compared to the rest of the technology in our products. There's clearly no Moore's law for batteries.
Did anyone else expect more from Apple when it comes to their stores and promoting the Apple Watch than a new…table.
Overall a great keynote and one of the most interesting for years. The watch will sell millions but ResearchKit and the MacBook were the stars of the show. No one predicted that.