A couple of months back I posted about keeping active every day thanks to the Apple Watch. The tracking and alerts makes it easy to stay on top of what I'm doing and the activity seemed to be helping me health wise. Two months on, have I kept it going?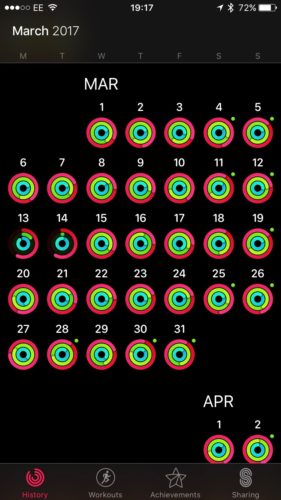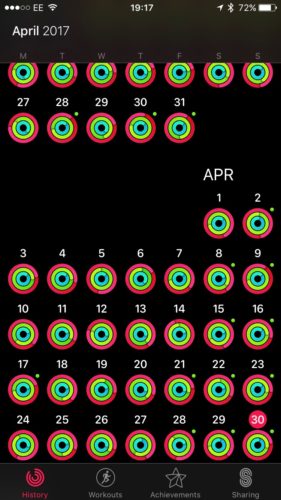 Apart from two days in March every day has been a circle filling day. Those two days were some of the most snot filled days I've had in a long time. Worked from home with a constant stream of snot from who knows where. Apart from that, every day I've been out and about keeping active. No running or cycling but walking to keep things ticking over.
I'm not too fussed about the missing days…I tell a lie. I'm more than slightly pissed off that my streak since Jan 16th has been broken by a fucking cold. Granted a stinker, but I've had days when I've felt worse and still went out and done things. As many others have said, it would be great to mark sick days in the Activity app and get a pass but then it would be easy to cheat. Cheaters always spoil the fun for the honest amongst us.
So will I keep this going? Probably but I'm not too fussed about keeping whole months. I certainly feel better physically and mentally for getting out and about more and intend to keep that up, even if it doesn't help with any weight loss…but maintaining is good, right? I've also got my first audiobook to crack through over the coming weeks so that will help pass the hours. Onwards.