Just over 4 years ago Twitter as I knew and loved it felt under threat thanks to some planned changes to their API's. Twitter was valuable for me thanks to the third party clients and the direction of travel from Twitter themselves around their apps didn't work for me. Changing order of how I see tweets thanks to algorithms, adverts that were non relevant and a number of other concerns meant it was time to look elsewhere.
Mastodon seemed to be the place that had most chance to replicate/replace Twitter but it never worked for me. The majority of people that I followed on Twitter didn't migrate. Mastodon had a barrier to entry that was fine for the tech savvy but alien to most others. The value of Twitter that I got from it, mostly thanks to use of lists and third party clients, just couldn't be replicated on Mastodon.
So my Twitter habit remained and about the only thing that changed was my third party client, moving from Tweetbot to Spring.
Then Twitter got Musked.
Unbanning of questionable individuals, abhorrent treatment of Twitter staff and the public displays of his incompetence at running Twitter has lead me and many others to finally shift platforms. Mastodon has seen explosive growth in the last month but the main clincher for me has been the rise of third party apps.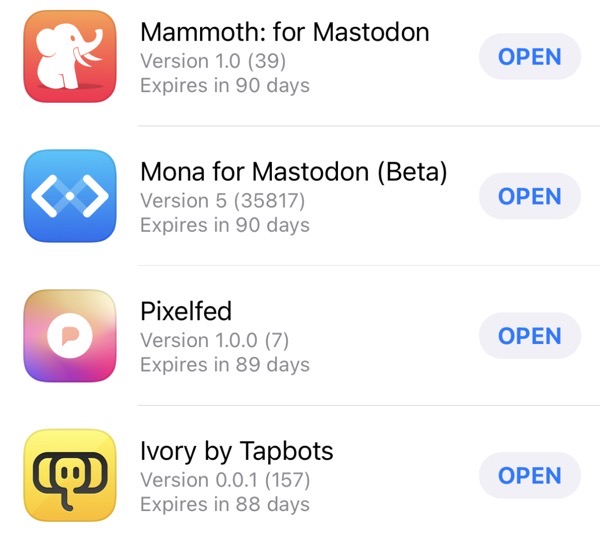 Mastodon's iOS app's are OK….but Ivory and Mona blow the Mastodon official clients away and make for a far better experience on Mastodon. They aren't for sale yet so you need to join a beta which have been really popular…or in Mona's case use Spring on OS or Mac to get access to the beta. After a couple of weeks I'm getting more out of Mastodon than i do on Twitter. Part of that many interesting people have switched of their Twitter accounts and have moved to Mastodon. Others are using their Twitter accounts to focus on the mess that Musk is making…which makes for pretty repetitive reading.
Mastodon feels alive. Its like the early days of Twitter – no brands, no ad's, no forcing content my way because thats what an advertiser wants. There's still issues with the platform and it can feel like it's missing functionality. The fediverse is also fragmented and your Mastodon experience may well come down to the world view of your server administrator – good luck with that.
I'm not going to shut my Twitter account down as it still has value. The sheer volume of people on the platform means local issues still get traction on Twitter compared to silence on Mastodon. There's also a lack of politicians and journalists so many of the topics I enjoy following on Twitter don't appear on Mastodon…that might be due to the server I'm on, the people I follow etc but I'm getting real value out of the tech/geek community that I now follow on Mastodon.
If you're unsure of making the move here's a couple of helpful posts and tools to help. A good overview of Mastodon and how to join the fediverse is Craig Grinnell's guide on Stuff.tv. Firstly you need to choose a server and there's lots to choose from. It's fairly easy to migrate servers so it's not a showstopper if you make a choice and then find it's not for you. The Mastodon website is fine for the first wee while but you really want the app or third party client. Building a new network can feel daunting – I took it as an opportunity to find new voices – but tools like Movetodon make it easier to find your favourites from Twitter on Mastodon. Followgraph for Mastodon also helps surface interesting accounts that your followers also follow.
I've stuck to using the same account I created a few years ago – @iandick@mastodon.social. Hopefully you'll take the plunge and move to Mastodon if you have similar frustrations to me and don't trust Musk to be a good custodian. See you on the other side.