Just a quick update to my last post on iTunes Match. Since the post Apple have updated their iTunes Match page in America to include a FAQ and video which helps clarify exactly what iTunes Match is and how it works differently for desktops and mobiles for streaming.
Does iTunes Match stream or download songs?
On a computer, any songs stored in iCloud will stream over the air when played, though you can download them at any time by clicking the iCloud download button. iOS devices will start playing tracks from iCloud as they download and will store them so that you can listen to them later even if you don't have a network connection. Apple TV only streams songs.
So I fired up the Mac Mini and signed into my account – low and behold my library is available from the Mini rather than pointing to my shared library on the iMac – see screen below.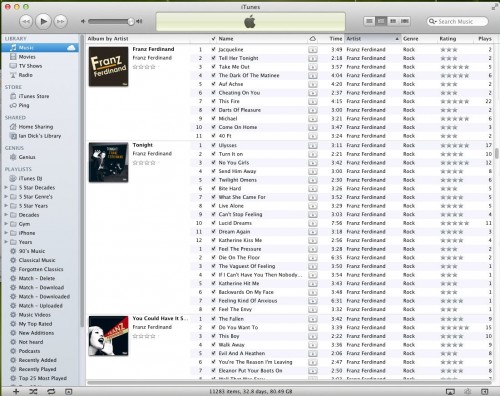 Click on a track and it is streamed after a couple of seconds. It's not as slick or fast as Spotify but it's not a million miles away either. When I click on next to play the next track there is a couple of seconds delay while it requests and starts the stream. The same is true for playlists (which are also synced across devices) but interestingly if you let the track finish and move onto next track it is instantaneous. So it looks like it does some pre-loading of the assumed next track in certain scenarios. Like the FAQ states, this doesn't download the track – just streams. Clicking on the cloud icon downloads the track to the Mini. Nice.