I've spent the last week in London on a TOGAF training course. It was an enjoyable course and marks a bit of a change in career direction which I'm looking forward to. Before that though, some thoughts on the course.
The four day course took place in central London, in fact a stones throw from Buckingham Palace in the wonderfully named Stag Place. The venue itself was on the 27th floor which offered fantastic views over London.
The hotel I stayed in was a wee bit way from the venue, right on Shaftsbury Avenue. If you've not been to London before you won't know the location but it's right on the edge of Chinatown, Soho and Covent Garden. This meant for great restaurants every night but my room was over looking the street and it just never got quiet. On the first night I hardly got any sleep and picked up some ear plugs so the next three nights were bearable. The room was also quiet small, with a tiny sink in the on suite. The worse thing is that four nights stay cost over £800. Shocking but I guess that's London rates for you. It was clean and centrally placed – that's about the best I could say as long as you take some ear plugs!
I have to mention each of the restaurants we visited. All very different and all extremely delicious and all found via Yelp on the iPhone.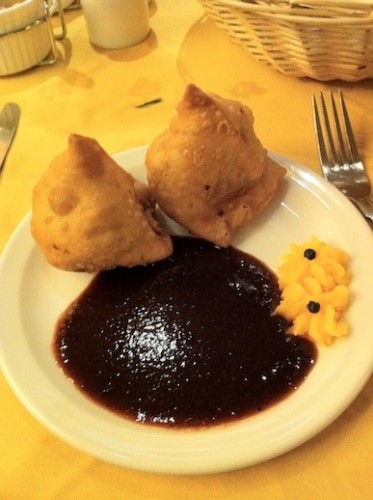 The first restaurant was Punjab in Covent Garden. Despite the waiter spilling my beer over the table the meal was excellent and a good start to the week. Just look at that starter above – mmm – lovely.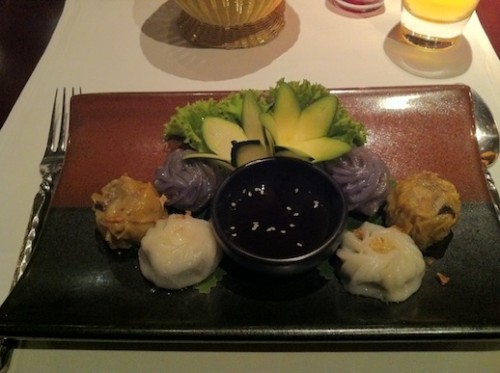 The second night was at Patara – a great Thai restaurant. The mains were great but again my starter was a real highlight (picture above). Third night was at La Perla – a mexican pub/restaurant that did messy but tasty food with massive portions.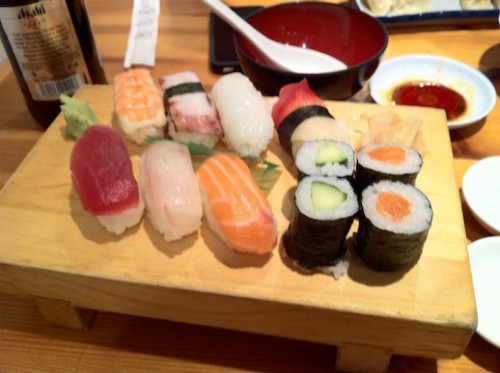 By Thursday I was stuffed what with the big meals at night and the great lunches on the course. We went into Taro which was a busy Japanese restaurant. I swore I wasn't going to eat much but I did – just look at the sushi – fantastic! My weight will undoubtedly pay for this. It's a shame that the view and food was let down by the heat in the room. Warm first thing, by lunchtime it was getting too hot but it just couldn't be cooled. By mid afternoon, especially after no sleep, it was hard to stay awake. Dry subject, little sleep and a really warm room.
One nice part of the week was the distance between hotel and course. Far enough away that the walk was meaningful but not far enough away to force us onto the underground. That was only used on arrival and it was a pain due to closure of circle line – our train was swamped with people and it was so damn hot. While walking around I was surprised by how many Boris Bikes were in use. Looks like a popular scheme and one thats easy to use.
As for the course itself, it was good but TOGAF is a fairly dry subject – have I said that already? The best parts of the course were the group exercises although our team was helped by having a powerpoint and sales guru on the team – not my area of expertise! Our team even one the prize – a pen each. Easily pleased.
All thats left to do now is to do the exam in the next few weeks and I should then be TOGAF certified. Eh? Enterprise architecture is the path I'm starting to follow which will be heavily influenced by TOGAF. A long way to go and much work to do but I look to have a pretty interesting couple of years ahead of me. There's a lot to sort!