88.8. A nice number but why is it blog worthy? For almost 4 years I've been trying to lose weight. The first 18 to 20 months saw my weight drop from almost 130kg down to 93kg. In 2010 my weight drifted slightly upwards and by the start of this year I was hovering around 97kg. I made a statement at the start of the year to take 5kg off this year but thanks to the Fitbit, doing a bit more on the bike and having some healthy competition with friends on RunKeeper I've shaved off more then 5. This morning I weighed 88.8kg.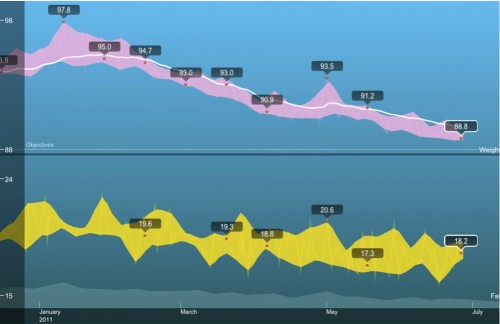 So what you might say? Well convert that weight to stones and for the first time in probably 15 years I weigh less than 14 stones. Get in!!!! I'm pretty chuffed at getting to 13 stone something, even if the something is 13.8 pounds.
Still some way to go if I want my BMI to get below 25 and not be overweight. Current BMI is 27.3 and I need to lose another 18 lbs or in modern money a further 8.2kg. I think that will be a big ask although current weight loss would see me hit that weight at year end…but it's getting harder and tougher to lose.
Small steady steps but overall that's 6 and 1/2 stones in nearly 4 years. Happy days.